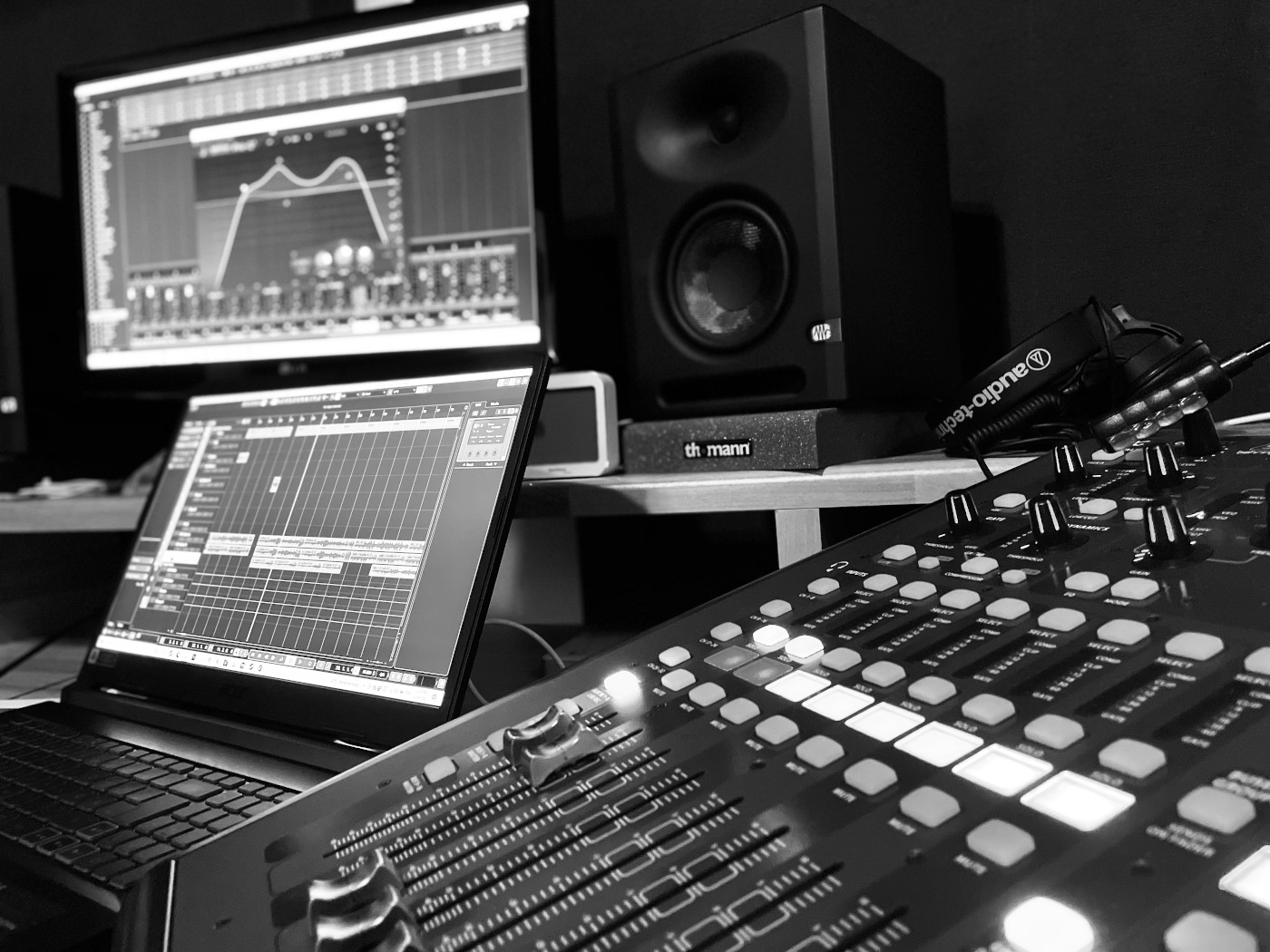 Our Studio
And Gear
From our comfortable control room, to our acoustically treated live room, we use the latest technology from Steinberg (Cubase Pro) to mix and engineer your material. From live amplifier production, to programmed drumkits and tone building with various tube and solid-state units, we pride ourselves on being able to offer a variety of possibilities and options with our lengthy inventory of plugins and microphones to meet your standard, as well as your budget.
Jason Rowe
Production Engineer & Guitar Tech
Born and raised in Melbourne, Australia, Jason has been involved heavily in the Australian heavy music scene for over 15 years. From rhythm guitarist in Crowned Kings, frontman duties in Capital Enemy and having featured on an international release as guest spot (Nothing From No One, France), Jason has been able to not only tour the continents of the world with the likes of Sick Of It All, Wisdom In Chains, Evergreen Terrace, Terror, Sworn Enemy etc. but he has now found solace in the land of Bavaria, Germany to participate, and mentor new and established local bands on their musical abilities and live performances. Jason has had the luxury of working alongside various producers such as Beau McKee/Sam Johnson (Melbourne, Australia) and Nick Jett (Los Angeles, USA) to grow and build his knowledge for music production and live engineering. And with this knowledge, aswell as working alongside our co owner Daniel, these skills were used to design, build and treat our new and established studio. Being passionate for music, performance and production, and of course as suckers for the underdog, Jason, and the rest of us at AWAY FROM LIFE Studios look forward to working with you and sharing the ride together, that is music!
Daniel Virnekäs
Coordination
Coming from a local village in the near of homebase, Daniel has also been involved in the Punk/Hardcore scene of the area for over 15 years. From guitarist of Punk band, The Poor Devils, and with over 7 years experience organising the reputable Stäbruch Festival in Untererthal, Bayern, and various occasions in live engineering - he has gained experience and knowledge in logistics, planning and understanding the correct tools, for the right situation. Working side by side with Jason, Daniel took on the role of leading the design of our beautiful Studio and as co-owner, he is always there for you in regards to any requests, and logistical/technical services that you may need.
Simon has been involved in the music scene of Lower Franconia since his early childhood. Other than playing in different hardcore-punk-bands (Thin Ice, The Poor Devils), Simon once took his shot at booking and organising local shows. In the year 2015, Simon founded AWAY FROM LIFE, which slowly became one of the most reputable online magazines for Hardcore/Punk music in Europe. In the same year, Simon began the groundwork for the first Stäbruch Festival, that has annually succeeded and has attendance from all over Europe. Over the years, bands like Agnostic Front, The Baboon Show and Wisdom In Chains have taken the stage at Stäbruch, which was once nothing more than an idea. Simon lives and breathes live music and dedicates every waking breath to watching it shine. His aim is to support young and local bands and keep the scene well and truly alive. Alongside the crew at AWAY FROM LIFE Studios, he is determined to leave a mark on the ever thriving scene and bands/people involved.
We look forward to your request